Teeth grinding, also known as bruxism, can damage your teeth and impair the function of your jaw if left unaddressed.
At his offices in Garland and Logan, UT, oral surgeon Gregory E. Anderson diagnoses and treats bruxism.
If you or someone in your family regularly experiences involuntary teeth grinding, schedule a consultation with Dr. Anderson today.
Treat Bruxism Early to Save Your Smile
Teeth grinding can wear away the enamel on your teeth, resulting in a worn and damaged smile.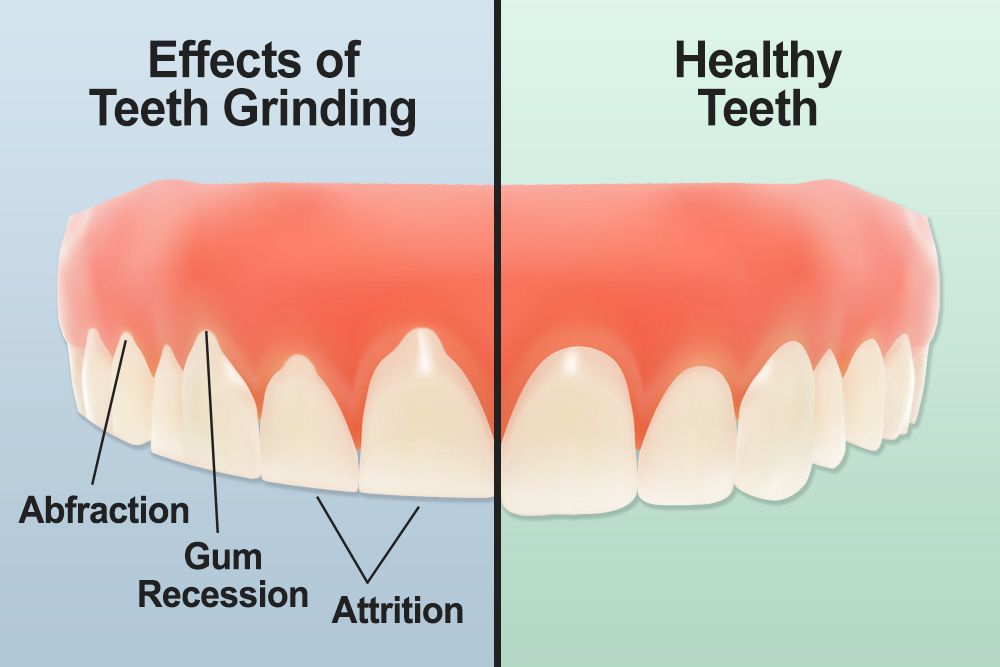 Teeth Grinding
The most common symptom of bruxism is teeth grinding. For some patients, teeth grinding will happen at night, leading it to go unnoticed.
Worn Tooth Enamel
Grinding your teeth can cause your tooth enamel to wear away. This can result in worn and flattened teeth if not dealt with promptly.
Chipped, Cracked, Loose, or Damaged Teeth
As your tooth enamel wears down, your teeth may become chipped, cracked, loose, and damaged. Early action is essential to preserve your dental health.
Jaw Pain
Patients with bruxism often wake up with jaw pain from clenching their jaws during the night or find they have jaw pain while concentrating and absentmindedly clenching or grinding their teeth.
Earaches
While bruxism does not actually cause a problem within your ear canal, patients may find they have earaches. The temporomandibular joint is located near the ear, which can lead to perceived ear canal pain.
Headaches
Headaches that start at the temples can occur from clenching and grinding the teeth. Pressure and swelling from the jaw joints can result in headaches and facial pain.
Sleep Disruption
Some bruxism patients will wake up in the middle of the night because of jaw and facial pain from grinding or clenching their teeth. If you wake up with sore jaw muscles, this may also be a symptom of bruxism.
Think You Have Bruxism?
Request an Appointment With Dr. Anderson
As a board-certified oral and maxillofacial surgeon, Dr. Anderson is highly qualified to diagnose and treat the source of your jaw pain. Whether you have bruxism or another condition that is the cause of your pain, Dr. Anderson can get to the bottom of it.
With over two decades worth of experience, Dr. Anderson can help you live life without jaw and facial pain. Call to request a consultation at our Logan or Garland, UT, offices:
"If I could give six stars, I would"
5-Star Reviews From Logan and Garland, UT, Patients
Dr Anderson has wonderful bed side manors and always lets me know the pros and cons of what I dealing . Very intellectual and listens to your wants and needs and fears . He makes you feels safe and explains the procedures as he does them . His staff is well trained and very nice and understanding of situations and makes you feel at home I highly recommend him to anyone . Thanks again
View on Google
The staff here are incredible. As far as health coverage is concerned, they go above and beyond to get your procedure approved. Sandra was literally on the phone with my insurance company for three straight hours. She gets it done! It's refreshing to see a medical office work so hard on behalf of their clients. I would never have been able to afford this surgery out-of-pocket. If I could give six stars, I would.
View On Google
If left untreated, bruxism can evolve into a temporomandibular joint disorder. Bruxism can cause the TMJ's cartilage to deteriorate, causing more pain and problems. Bruxism can also cause dental misalignment, which can lead to a TMD.
Non-Surgical Treatment for Bruxism
Non-surgical solutions can usually alleviate the symptoms of bruxism. For example, if you often grind your teeth or clench your jaw during the day, we may recommend certain exercises that will train your jaw muscles to behave differently.
Patients with sleep bruxism are often provided with custom-made dental appliances to wear during the night. These nightguards prevent the teeth from grinding, protecting the teeth and alleviating the pressure on the TMJ.
If Dr. Anderson diagnoses you with bruxism during an appointment at one of our offices in Logan or Garland, he will most likely recommend that you try oral appliance therapy before any other solution.
Surgical Treatment for Bruxism
If bruxism has caused significant damage to your jaw muscles, surgery may be recommended. During corrective jaw surgery, Dr. Anderson can alter the position of your jaws and repair joints that have been harmed by clenching.
Families in Logan and Garland trust Dr. Anderson for corrective jaw surgery because:
Dr. Anderson is a board-certified oral surgeon who has earned the prestigious title of Diplomate in the American Association of Oral and Maxillofacial Surgeons.
Dr. Anderson has practiced oral surgery for more than two decades.
Your comfort matters to Dr. Anderson. We offer several forms of sedation to our patients, including intravenous (IV) sedation, oral conscious sedation, and nitrous oxide.
Surgery is rarely required to treat bruxism, but when it is, you should work with an experienced jaw surgeon like Dr. Anderson. If you have persistent jaw pain or other symptoms of bruxism, request a consultation with our team at our Logan or Garland, UT, office by contacting us online or giving us a call at:
"Dr Anderson has helped me to be able to function
when my mouth has been in so much pain"

​Real 5-Star Reviews
Dr Anderson has helped me to be able to function when my mouth has been in so much pain. I had 2 implants that could not heal. My entire mouth was sore tender and not working. From previous dentist work. Dr Anderson solved the problems with the implants and helped me to once again be able eat abs have a normal life. Thank you to you and your staff. Mary Kay W
View on Google
Dr Anderson is friendly and professional. My family has come to him for multiple major surgeries over the years and he is always focused and attentive to his work. He makes patients feel comfortable with the open atmosphere and his family friendly style. Dr Anderson has used laughing gas to help numb me before surgeries (I hate it so I've requested no more) and is also an anesthesiologist so surgery is pain free!
View on Google
"Dr. Anderson is the best surgeon ever!"
More 5-Star Reviews From Logan and Garland, UT, Patients
I brought my elderly father on the referral of a Cache Valley medical clinic (Sterling Healthcare) to see Dr. Anderson. The staff and clinicians were totally professional and kind to us both. Saw us the same day as my dad was experiencing a difficultly with his face. Dr. Anderson was great. He got my dad on a treatment plan to get him back to normal. So thankful for his care, billing policy, and professionalism. Thank you all. We'd highly recommend this facility.
View on Google
Dr . Anderson is the best surgeon ever!!! His bedside manner is top notch and really and truly very personable. I had to have a procedure today and be sedated for the procedure. He personally placed the is and did the sedation himself! He was very gentle and reassuring. Dr Anderson you are truly amazing. I am very blessed to have a Dr that cares aviut his patients and really and truly treats them as if they were his own family! He is the best! Thank you once again Love to you and your awsome staff!
View on Google