Tooth loss and facial trauma can cause jawbone deterioration. Without treatment, jawbone atrophy can worsen, affecting your facial features.
Bone grafting is a surgical procedure that can increase the density of the bone in preparation for dental implants and other treatments.
Dr. Gregory E. Anderson performs bone grafting at our Logan, UT, and Garland offices to enhance and protect the oral health of our patients.
How Does a Bone Graft Work?
Benefits of Bone Grafting

With Our Oral Surgeon Serving Logan and Beyond
Restore Your Candidacy for Implants

Dental implants are used to replace missing teeth with crowns, bridges, and dentures. In order to qualify for implants, patients must have sufficient bone left in their jaw. By creating a solid foundation, bone grafting can restore your candidacy for dental implants even if you have insufficient bone tissue.
Improve Your Oral Health
A bone graft protects against jawbone atrophy by preserving existing bone tissue and regenerating what was lost. When a tooth is removed, a graft can also be placed at the same time to prevent the collapse of the socket and maintain oral health.
A Bone Graft Is Just the Beginning
Set a Healthy Foundation for a Smile Makeover
"Thank you to you and your staff."
Reviews From Our Patients
Dr. Gregory and his wife are great people. Saw him after hours for a locked jaw and he went above and beyond making me feel comfortable and making sure I understood what caused it/ how to help it. Very friendly, very kind, very admirable. Glad I met him!

View On Google
Dr Anderson has helped me to be able to function when my mouth has been in so much pain. I had 2 implants that could not heal. My entire mouth was sore tender and not working. From previous dentist work. Dr Anderson solved the problems with the implants and helped me to once again be able eat abs have a normal life. Thank you to you and your staff.

View On Google
Start Rebuilding Your Smile
Request a Consultation Today
Have you considered dental implants in the past, but were told you did not have enough bone to support them? Bone grafting by Dr. Anderson can help you rebuild bone tissue, restore your candidacy for implants, and preserve your facial features.
Dr. Anderson is a board-certified oral surgeon and a Diplomate of the American Association of Oral and Maxillofacial Surgeons. He performs a wide range of oral surgery procedures, including bone grafting and dental implant placement. Patients who visit our Logan, UT, or Garland offices can enjoy the convenience and comfort of having most of their treatment performed under the same roof. We maintain a friendly, casual atmosphere where patients can feel relaxed while receiving the surgical care they need. To schedule a bone graft or dental implant consultation, contact us online anytime.
Types of Bone Grafts

Socket Graft
Also referred to as ridge preservation, a socket graft is usually performed at the same time as an extraction. When a tooth is removed, there is an empty socket left behind. Without a graft, the socket is more likely to collapse, leaving an indentation in the gums. Dr. Anderson places socket grafts to preserve the ridge and prevent bone loss.
Ridge Augmentation
If the teeth have been missing for a prolonged period of time, the jawbone can shrink significantly. Often, this means there is not sufficient bone remaining to accommodate implants. Ridge augmentation uses new bone to add height, width, and density to the dental ridge, making it possible for Dr. Anderson to place implants into a stable foundation.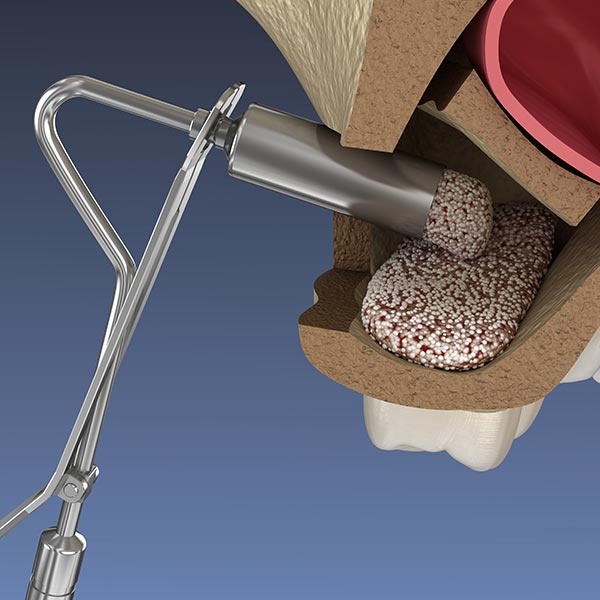 When tooth loss or disease affects the upper jaw, the maxillary sinuses can drop down and invade the space once occupied by teeth roots, preventing you from safely undergoing implant treatment. During sinus lift surgery, Dr. Anderson raises the sinus membrane back into its proper position and places a bone graft in the remaining space.
Good Dental Health
To qualify for bone graft surgery, patients should be in good dental health. If decay, disease, or infection are present, restorative procedures must be performed first. Otherwise, the results of surgery could be negated.
Good Overall Health
Furthermore, individuals should be in good health and free from any medical condition that could make surgery a risk. During a consultation at our dental practice, Dr. Anderson will review your health history.
"About 10 years ago Dr Anderson was recommended to me by my dentist, and I won't go anywhere else if I have any choice at all. I have gone to him for emergency and non emergency visits and he has taken great care of me each and every time."

David Baker
What to Expect During Your Surgery
in Logan or Garland
Dr. Anderson is a board-certified oral surgeon and a Diplomate of the American Association of Oral and Maxillofacial Surgeons.
Visit Our Patient-Centered Offices
for Treatment You Can Trust
You have options at our Logan-area offices, and Dr. Anderson is happy to explain them all. We take a custom approach to each treatment, allowing our patients to find lasting results.
Dr. Anderson will guide you throughout the process, answering every question you have. He can speak Portuguese and Spanish as well, so more of his patients can receive the answers and reassurance that they need. Dr. Anderson also has experience treating patients with disabilities, so you can rely on him to treat your loved ones with kindness and respect. Finally, he backs up his treatments with strong qualifications, such as his board certification.
If you're ready to see how our caring team can help you, contact our office. You can also call us at:
"A caring and skilled oral surgeon."
Why Logan, UT, Patients Believe in Dr. Anderson
The service was absolutely comfortable. I wasn't expecting the time to go so fast, but Dr Anderson and his staff were so kind, and very professional. So far, my healing process has been a breeze, and very little pain. Would recommend anyone needing services to go see him.
View on Google
Dr. Anderson has been my oral surgeon for many years. I have always found him to be knowledgeable, patient, gentle and has a wonderful bedside manner. I would definitely recommend Dr. Gregory Anderson and his staff to family, friends or anyone wanting a caring and skilled oral surgeon.
View on Google
When Can I Receive My Dental Implant?
While each person heals at their own rate, it usually takes at least four months for the treatment area to be strong enough to support a dental implant. However, some people may need as long as a year for the graft to fuse with the bone and improve tissue density.
Dr. Anderson will schedule regular visits so he can monitor your tissue healing and decide when you can move forward with the dental implant procedure. Once you've been approved, Dr. Anderson can perform your dental implant placement surgery at our Logan or Garland offices serving the residents of northern Utah.
Your dental implants can support restorations like crowns, bridges, and dentures for a beautiful smile and strong bite.
Dental Implants Are Worth the Wait
Though a bone graft can add months to the treatment process, they are necessary for patients who want dental implants but don't have enough bone tissue to support them. Without a bone graft, implant placement can fail. Though a bone graft lengthens the treatment timeline, many patients at our Logan and Garland offices say the benefits of their dental implants are worth the wait. Dental implants can:
Improve jawbone health
Improve your bite
Improve your smile and confidence
Stabilize neighboring teeth
Prevent bone loss
Avoid facial sagging and premature aging
Take a Glimpse
at the Dental Implant and Restoration Process
Comprehensive Treatment Under One Roof
Request a Consultation in Logan or Garland
As a board-certified oral surgeon, Dr. Anderson has the advanced training and broad set of skills to perform both your bone graft and implant surgery. This lets you avoid the complications of having your dental care split between multiple practices.
Dr. Anderson has been in practice for nearly 30 years and his fees are typically 20% to 25% less than other surgeons and dentists in Garland, Logan, and nearby communities in Northern Utah.
If you're in northern Utah and you are interested in strengthening the tissue in your jaw so you can qualify for dental implants, we invite you to contact us if you have questions and we will get back to you. Or contact our Logan or Garland offices by calling:
"This place was amazing."
More Reviews From Satisfied Patients
This place was amazing. I had been in pain and they took me right away and got the problem fixed. They even called to make sure I was well after the procedure was done.

View On Google
Dr. Anderson and his staff were very friendly and helpful. They answered my questions and gave very clear instructions for what to expect and do going forward.

View On Google
How Much Does a Bone Graft Cost?
The cost of this procedure begins at $350, but your total cost will depend on your unique case, so we encourage you to contact our office to receive a quote.
At Gregory E. Anderson PC, we are proud to offer affordable rates on our procedures. We often charge 20% to 25% less than other providers in the area. Still, we maintain a high standard of care and use the latest technology including surgical guides and digital X-rays.